---
What is Privet Hedging?
Privet hedge plants are evergreen shrubs that make a great way to establish privacy and security in one's outdoor space. They can help define boundaries while also creating an attractive, neat border across any landscape.
Many green privet hedge varieties have glossy leaves which remain green year-round and can grow quite large given the right conditions. Privet hedges are also quite hardy and require minimal maintenance, making them a popular deciduous shrub with gardens in the UK.
If you're looking for an easy way to create a secure, attractive boundary in your garden, privet hedging plants are the perfect solution.
Privet hedge root types
Depending on the privet hedge variety, privet can be purchased as either bare root hedging, root ball plants, pot grown hedging or instant hedging.
Our bare root and root balls are an extremely popular root type, available from November until March.
Privet hedge growth rate
Privet varieties like Common Privet and Golden Privet are fast growing with a growth rate of 30-60 cm a year.
Fast privet hedge growth also requires plenty of sunshine and protection from strong winds.
Overall height and spread
Privet has a medium height and can grow up to 5 metres, the overall spread can be up to 3 metres depending on the privet hedge variety.
The growth rate and size of privet hedge plants can be kept to a minimum with regular trimming.
Preferred soil types, position and optimal conditions
Privet hedge plants can be grown in most soil types including poor soil, but they prefer well drained soil that is not too acidic or alkaline.
A loam or sandy loam soil with a pH level between 6 and 7.5 is ideal for privet plants.
Privet will tolerate full sun exposure, semi shade as well as partial shade, and will grow well in coastal areas, urban areas and exposed sites.
This quick growing evergreen hedging is a popular choice in UK gardens as it's very tolerant to all weather conditions.
---
Benefits of Privet Hedge Plants
Privet hedging has many benefits over other types of hedging plants;
Reliable hedging, copes beautifully with UK weather patterns and pollution
Makes a great alternative to box hedging
Establishes privacy and security in outdoor spaces
Defines boundaries in landscapes
Attractive, glossy leaves remain green year-round
Hardier plants that require minimal maintenance and can easily be trimmed and shaped
Adds colour and texture to any garden
Dense evergreen hedge that makes a great noise barrier
Can be trimmed to desired height and shape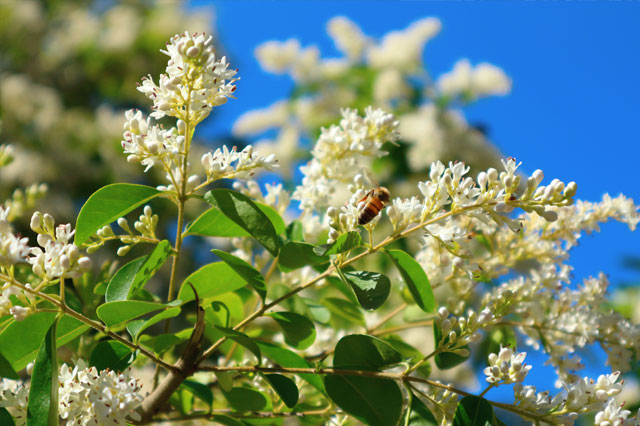 ---
Planting a Privet Hedge
Planting a privet hedge is a great way to add privacy, security, and attractive foliage to your outdoor space.
Before planting, it's important to choose the right privet plant variety as well as its location. To learn more about planting and plant selection, please read our Privet Hedge Planting Guide.
---
Pruning & caring for your Privet Hedges
Read our helpful tips on how to care for and maintain your privet hedging plants to keep them looking neat and healthy.
We cover pruning, trimming and cutting tips, how to identify common problems and pests, plus watering and fertilising tips.
Pruning your Privet Hedge
Privet requires minimal maintenance, however, it is important to trim privet hedging at least twice a year in order to ensure that your privet hedge stays healthy and at a desirable height. If left untrimmed, these quick growing hedging plants can soon become a few metres high.
For further information on pruning your privet hedge, please refer to Privet Hedge Pruning Guide.
Common Privet Pests & Diseases
Common pests and diseases can affect privet hedging and it is important to regularly inspect your privet hedging plants for signs of infestation or damage.
Aphids, scale insects, and thrips can all cause damage to privet hedge plants, as well as mites and caterpillars.
Fungal diseases such as powdery mildew can also affect privet hedge plants and cause leaf spotting or fading of foliage colour.
For further information on common privet pests and diseases, please refer to our guide on Privet Pests and Disease Control.
Watering & fertilising your Privet Plants
Once your privet hedging plants are planted, watering is an important step in keeping them healthy and robust.
Privet hedge plants should be watered regularly, especially during dry periods or during the first few weeks after planting. It's best to water privet hedges early in the morning or late in the evening when the temperature is cooler and the sunlight is less intense.
Fertilising privet plants is also beneficial for their overall health and growth. Applying a balanced, slow-release fertiliser in the early spring and late summer can help privet hedges to thrive and produce lush foliage.
Overall privet hedging is an attractive, low maintenance option for creating privacy and defining boundaries in your garden. With the right care and maintenance privet hedging can look great for years to come.