---
What is Euonymus?
Euonymus is a genus of flowering evergreen shrubs that belong to the Celastraceae family. Euonymus originates from various regions around the world, including Europe, Asia, Australia, and North America. The origin of Euonymus specifically can be traced back to Asia and Europe. Euonymus Japonicus, one of the most popular varieties used for hedging, is native to Japan, Korea, and China. Euonymus Fortunei is native to China and Japan, while Euonymus Europaeus is native to Europe and western Asia.
In Europe, Euonymus was introduced in the 1600s and was commonly used as a decorative plant in gardens and landscapes. Today, Euonymus is a popular choice for its versatile nature, easy maintenance, and attractive appearance. It is used for various purposes, such as edging, low-growing hedges, small hedges, and privacy screens. With proper care and upkeep, Euonymus hedges can thrive for years and provide a beautiful addition to any garden or landscape.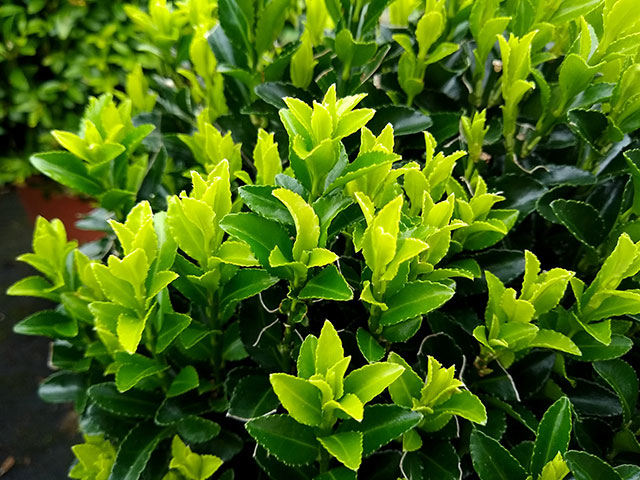 ---
Benefits & Features of Euonymus Hedges
Here are ten main benefits of Euonymus hedges:
Resilience - Hardy evergreen shrub that can withstand adverse weather conditions and extreme temperatures.
Adaptability - Can grow in a wide range of soils and can tolerate both sun and shade environments.
Attractive Appearance - Has a striking appearance due to its variegated or dark green foliage, and can be used to complement any garden or landscape design.
Easy Maintenance - Requires minimal maintenance, making it an ideal choice for those with busy lifestyles or limited gardening experience.
Privacy Screen - Can be grown to provide an excellent screen for privacy, keeping your garden or home secluded from prying eyes.
Wildlife Habitat - Creates an excellent habitat for wildlife, including birds, insects, and small mammals.
Soil Erosion Control - Effective in controlling soil erosion, making it ideal for gardens on sloping land.
Wind Barrier - Can be used as a windbreak, protecting your garden and home from strong winds.
Noise Reduction - Can help to reduce noise levels, making it a perfect choice if you live near a busy road or in a noisy neighbourhood.
Year-Round Interest - Euonymus is evergreen deciduous shrub, providing interest all year round and making it a great choice for adding texture and colour to your garden, whatever the season.
---
Planting Euonymus Hedging Plants
Planting euonymus hedges is a straightforward process that can be done with ease, providing an attractive and hardy addition to any garden or landscape. With its ability to grow in many different soil conditions and tolerate sun and shade environments, it has become increasingly popular among gardeners and landscapers alike.
Whether you are a seasoned gardener or new to planting hedges, following these simple guidelines can help ensure successful growth and a beautiful addition to your outdoor space.
How to plant Euonymus
Planting Euonymus hedging is a relatively simple process that can be done by both seasoned gardeners and those new to hedge planting. Follow our step-by-step guide on how to plant Euonymus hedges, along with some helpful tips to ensure optimal growth and a beautiful addition to your garden or landscape.
Preparing the area and testing the soil
Before planting your Euonymus hedge, you need to prepare the area where you want to plant it. Choose a location with well-drained soil, and make sure the soil is free from weeds and debris. Also, ensure that the soil pH is suitable for Euonymus hedges (ranging from acidic to alkaline).
Digging the trench
Next, dig a trench along your desired planting line. The trench should be the same length as your intended hedge and somewhat wider than the diameter of the Euonymus roots. The depth of the trench should also be slightly deeper than the size of the Euonymus roots.
Positioning the Plants
Position the Euonymus hedge plants in the trench, ensuring that they are spaced evenly according to the recommended spacing for the variety and the intended outcome. For instance, if planting for a privacy screen, space them closer together.
Backfilling soil into the trench
Once you have positioned the Euonymus plants, backfill the soil into the trench, making sure that the plants are at the same depth as they were in their original containers. Ensure that the soil is packed firmly around the roots to avoid air pockets that could negatively impact growth.
Watering in the hedge
Water the newly planted Euonymus hedge thoroughly to establish good root growth. Ensure that the soil stays moist during the first few weeks after planting.
Mulching (Optional)
Apply a layer of mulch around the planted Euonymus hedge to help retain moisture, suppress weeds, and improve soil structure.
When to plant Euonymus
The best time to plant Euonymus hedging is in the spring or early autumn, avoiding the hottest and driest months of the year. Planting in well-draining soil with good organic matter content can help provide the necessary nutrients and drainage for successful growth.
Euonymus hedge spacing and planting distances
Euonymus hedge spacing is an important factor to consider when planting your new hedge. Please see our table below for the correct plant spacing for different sizes of pot grown Euonymus.
Preferred Soil types and Positions
Euonymus hedging can grow in a wide range of soil types, including clay, loam, and sandy soils. It prefers well-drained soil conditions that are moist but not waterlogged. It is also adaptable to soil pH levels, ranging from acidic to alkaline.
When it comes to positioning, Euonymus hedging can thrive in both sunny and partially shaded areas, but does not like dense shade. It is important to note that the variegated varieties tend to produce more yellow tones when grown in full sun, while those grown in partial shade have a more green appearance.
It is best to avoid planting Euonymus hedging in areas that are prone to water logged or in locations with strong winds, as this can damage the plant and affect its growth. Additionally, Euonymus hedging is not tolerant of salt spray, making it unsuitable for coastal areas.
Pot grown Euonymus vs Instant Euonymus Hedging
When it comes to planting Euonymus hedging, you have two main options: pot-grown plants or instant hedging.
Pot-grown Euonymus hedge plants are young plants grown in individual pots, sold separately or in our bulk discounted hedging packs. By planting pot-grown Euonymus, you can start with smaller plants and gradually watch them grow into a lovely hedge.
Instant hedging involves planting fully grown Euonymus hedges or plants grown in hedging troughs to create an established hedge instantly. Instant hedging provides an immediate effect, with a fully formed hedge in no time. Instant hedging provides an immediate effect, and you can have a fully grown hedge right after planting.
---
Pruning and caring for Euonymus
To maintain a neat and tidy appearance, Euonymus hedging should be pruned regularly. Pruning helps to control its size and also promotes bushier growth, which can help create a denser hedge or privacy screen.
Growth Rates
The growth rate of Euonymus hedges can vary depending on the variety, soil conditions, sun exposure, and maintenance. On average, Euonymus Japonicus varieties can grow at a rate of around 10-20cm per year, while Euonymus Fortunei varieties can grow up to 30cm per year. However, it is worth noting that growth rate can be affected by factors such as soil fertility, irrigation, and pruning.
When to prune Euonymus hedges
The best time to prune is early spring or late summer when the plant is actively growing. Avoid pruning during the winter months as the plant will be dormant and may damage easily.
How to prune Euonymus
When pruning, shape the hedge to your desired height and width using sharp, clean pruning shears. Cut back each stem by approximately one-third, but no more than that. Cut at a 45-degree angle just above a node (the point where leaves or buds emerge from the stem) to encourage new growth.
Watering and fertilising
In addition to regular trimming, ensure that your Euonymus hedge is adequately watered, especially during dry periods over the summer months. Fertilise the hedge with a balanced fertiliser in early spring and autumn to keep it healthy and thriving. Check for pests and diseases and take appropriate action promptly.
By following these simple steps, your Euonymus hedging will continue to provide a beautiful and resilient addition to your garden or outdoor space.